News & updates

18 May 2023
Kruunupyy group show 13 May: Ella Best Puppy in Breed and Salli Excellent/1 under Erja Nummi.
Oulu group show 14 May: Vappu graded Excellent by Paavo Mattila.
Turku group show 18 May: Sulo (pictured below) Best of Opposite Sex with his first CC and Nuttu Very Good/1 under Kirsi Sainio.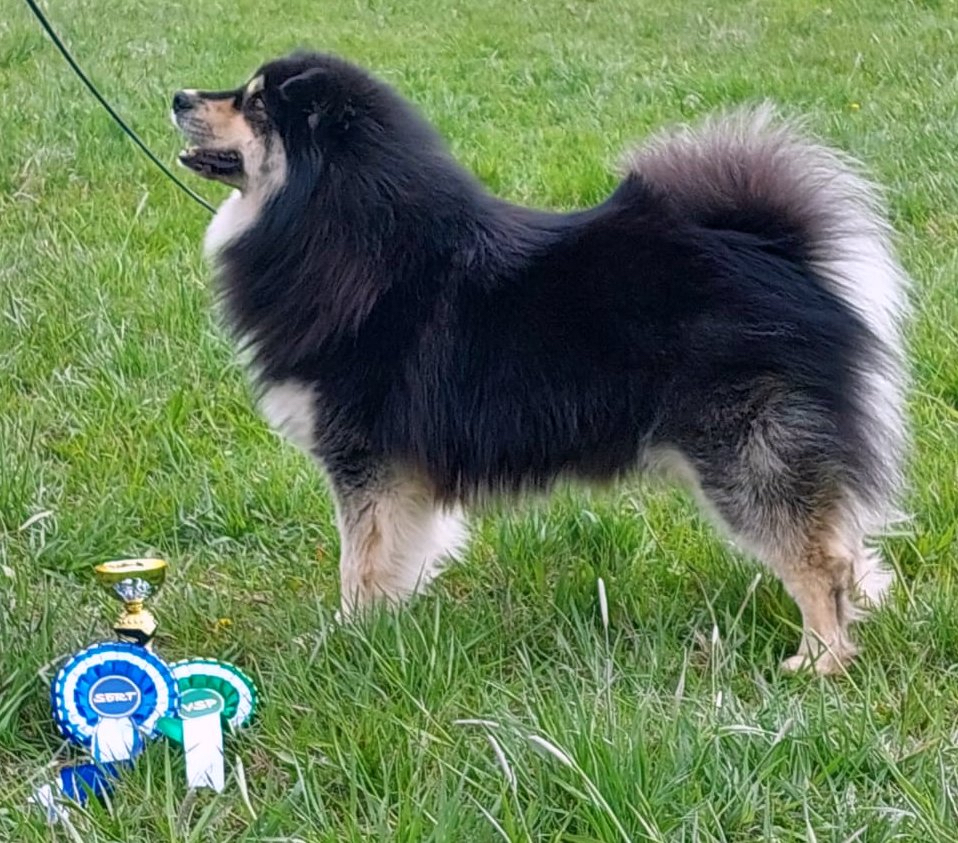 Our SAR dog/handler team candidates Bella and Hanneliisa have passed the advanced level ground search test and can now start preparing for the demanding final test that will qualify them as members of the emergency team of The Volunteer Rescue Service of Finland. Big congrats!
10 May 2023
The puppies are here! Alma gave birth to two boys and two girls on the 5th of May. The pups and Alma are doing great.
Kokkola group show 7 May: Ella first place in Puppy Bitch, Hali Excellent/1 and Salli Very Good/3 under Aila Lehmussaari.
Rasmus has been eye tested clear. Thank you Henna!
30 Apr 2023
Puppies on the way! With her due date just around the corner, Alma is heavily in whelp to Loihakka Lokan Rauta-airo. For more details, go to Puppies.
Nuttu's profile picture and photo gallery updated (photos by Johanna Laiholahti). Salli has a new profile picture, too.
23 Apr 2023
Latest show results:
Kauhajoki group show 1 Apr: Arttu Very Good/1 under Reino Korpela.
Spring Specialty of the Lapphund Club of Finland, Laukaa 2 Apr: Rasmus graded Good and Koda, almost 14 years old, graded Excellent by Matti Tuominen.
Kiuruvesi group show 22 Apr: Rasmus Excellent/4, Hali (pictured below) Best Veteran in Breed with a veteran CC and a third place in the dog challenge, Poca Excellent/2 with a CQ, and Salli Excellent/1, CQ & fourth place in the bitch challenge. As many as three breeder's teams were presented and much to my delight ours won Best Team in Breed! Finnish Lapphunds were judged by Reino Korpela.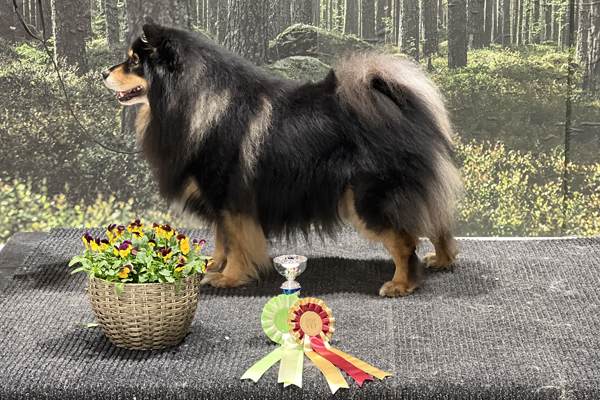 Kankaanpää group show 23 Apr: Arttu Very Good/3 under Leni Finne.
Vappu competed in a Rally obedience trial in Oulu on the 19th of March with her young handler Sylvia. They scored a perfect 100 points in the Novice class! As they have another qualifying score from their first trial in November last year, they are very close to their RN title. Congrats!
Salli's x-rays were done earlier this month and these are her scores: hips C/B (with an additional remark about shallow acetabulums), elbows 0/0, and spine scores VA0 (clear) and LTV0 (clear).
Ella has a new profile picture (© Merja Koivuluoma).
18 Mar 2023
Last week Bella, Salli, Poca, Hanneliisa and I ventured out to Pello, Lapland for a weekend bootcamp of reindeer herding. As usual, our seasoned herder Bella was doing a great job once she had let some steam out. While Poca has tried sheep herding earlier, this was the first time she met any reindeer and she did get a tad overexcited at first. However, once she got the hang of it, it was a pleasure to watch her work. Salli may have provided the biggest surprise of the weekend though: she worked the reindeer like she'd done it loads of times before even though she'd never seen reindeer except through the car window. She was co-operating with me nicely and showed some clever moves such as fetching the stray reindeer that had separated from the herd. Salli was also tasked to empty a small paddock and she managed to do it even though I was not sure how she would cope in such a tight space with large animals everywhere. Thank you Hanneliisa for a super fun weekend (the car battery dying was less fun though, but we did make our way home in the end)! Pictured below is Bella.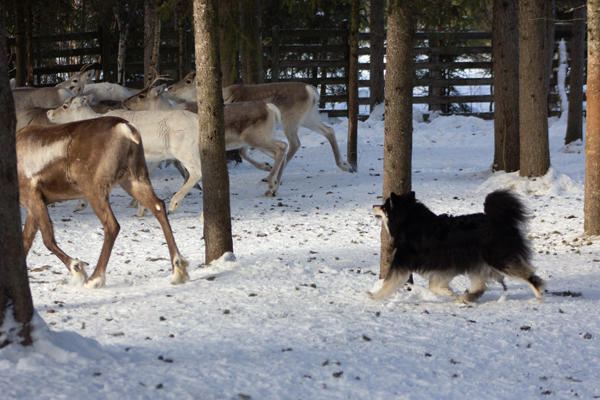 Nuttu has been x-rayed and the results look like this: hip score C/B, elbow score 0/0, and spine scores VA0 (clear) and LTV0 (clear). The Finnish Kennel Club vets had included some remarks on the reports: Nuttu has shallow acetabulums and her last lumbar vertebra is short and set somewhat back. Thank you Johanna!
Photos from the reindeer herding weekend added to the galleries of Bella, Salli and Poca. Jiska's photos on her personal page and on Noki's progeny page updated (© Outi Uusitalo).
9 Mar 2023
We have lost two much-loved team members since the previous update: first we had to say goodbye to Raiku in the middle of December, and just two months later I received the news about Netta passing away. My condolences to both families.
Health news has not been all that good either: Masi has been diagnosed with hypothyroidism, and Kielo had to undergo surgery recently to have some mammary gland tumours and a small fibroma on her thigh removed. Luckily it is not all bad news as the pathological findings turned out to be benign. Continuing on that positive note, Noki, Alma and Otso have had clear eye exams. What is more, Ellie has been PennHIP scored with a very nice result of 0.36 (which is well below the breed average of 0.44) and she has normal elbows, too (OFA scoring system). Ellie's sister Jiska was not quite as lucky in every aspect as her hip score is B/C, elbow score 0/1, and patella score 0/0. A big thank you to the owners of these dogs!
The Lapphund Club of Finland recently published their Top 10 lists for 2022 and I am happy to announce that Salli is Top Puppy 2022! As for this year's show results, Rasmus was shown at Kajaani 7 Jan under Pinja Hiltunen, who graded him Good. Arttu has attended his first shows as a junior with the following results: Good grading from Irina Poletaeva at Parkano 4 Feb, Very Good/3 from Kirsi Honkanen at Jämijärvi 25 Feb, and Good from breeder judge Esa Ruotsalainen at Jämijärvi 26 Feb.
We did not show any dogs in the huge annual Spitz Specialty at Kuopio at the end of January this year, however, Rasmus underwent a conformation examination and the panel of judges thought very highly of him! What is more, I was approved to perform conformation examinations for Lapponian Herders.
Ella's picture gallery has been updated.