Latest show results below:
Lappeenranta all-breed show 18 June: Vappu Very Good/4 (judge Outi Piisi-Putta).
Kuusamo group show 18 June: Salli Excellent/2, CQ & res CC, Ruusu Very Good/2 and Vuokko Very Good/2 (judge Aila Lehmussaari).
Haapajärvi group show 19 June: Luka Very Good, Sulo Very Good, Salli Excellent/3, Ruusu third in the bitch challenge & res CC, and Vuokko Excellent/1 (judge Maarit Hassinen). As we had four Cantavia dogs entered, we were able to show a team that went Best Team in Breed.
Gällivare Nordic show, Sweden 1 July: Salli Best of Breed with Swedish and Nordic CCs (judge Marianne Holmli). She is pictured below against the show's signature backdrop of midnight sun.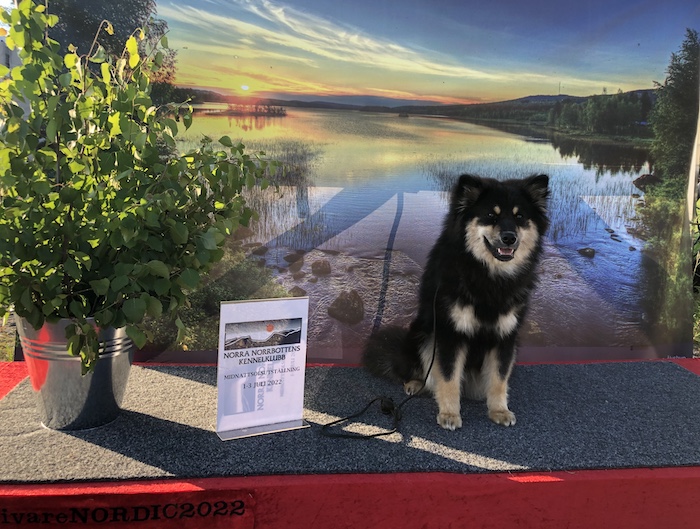 Oulu International 2 July: Salli Very Good (judge Harto Stockmari).
Tuusniemi group show 2 July: Sulo third in the dog challenge & res CC (judge Sakari Poti).
Ruusu and Sulo underwent conformation examinations organised by the Breeding Committee of the Lapphund Club of Finland at Kiiminki on 16 June. The judges were Tapio Kakko and Taru Vallius. Both dogs were deemed "Approved for breeding".
A couple of photos added to Kerttu's gallery.