News & updates 2008

26 Dec 2008
The clever dog/handler team Kukka and Johanna took part in their second Advanced Class obedience trial in Noormarkku 7 Dec. Judge Ilkka Sten gave them 264 points and thereby a First Prize, so Kukka is now eligible for the Championship Class. Her overall placement was third. Congratulations - what an unbelievable team you are!
26 Oct 2008
Seinäjoki International show 25 Oct: We had been looking forward to showing Kiara under breed specialist Jarmo Vuorinen for ages and we were not disappointed when he chose her as his champion class winner and placed her second in the bitch challenge (with a res CACIB) out of 20 PHs entered. Way to go Kiara and Elina!

Kukka was in action again receiving her BH (Begleitungshund, a temperament and obedience examination to qualify for Schutzhund titles) in a test held in Uusikaupunki 25 Oct. The judge was Sirkka Lempinen. Keep up the super work Kukka and Johanna!

Jeppe participated in a temperament test in Yli-Ii 26 Oct. He scored a very nice 140 points under Lauri Ojala and Jari Keinänen. My heartfelt congratulations Jeppe and Minna!
12 Oct 2008
Latest show news: Kukka took part in an all-breed show in Helsinki 6 Sept where she went third in the bitch challenge under Pekka Teini and was awarded her second reserve CC! Many congrats Kukka and Johanna.

20 Sept we attended a puppy show in Siikajoki with Aarni and Mette. The six Lappy puppies entered were put through their paces by Katja Korhonen and we took the top honours with Mette (photographed left) going Best Puppy in Breed and Aarni (right) going Best Opposite Sex. Once again I want to thank Hanna Keskitalo for the photos!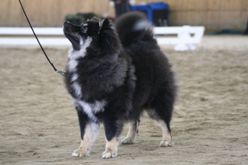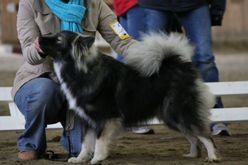 Next weekend it was Kukka's turn to enter the ring again. This time she participated in the Salo group show 28 Sept where Tanya Ahlman-Stockmari placed Kukka third in the open class with a Very Good grading.
4/5 Oct we travelled to Jyväskylä to attend the Autumn Specialty of the Lapphund Club. Kukka made her debut in the Advanced Class of obedience and came very close to achieving a qualifying score. Better luck next time! We showed quite a few dogs in the conformation rings as well, and unfortunately the girls did not do particularly well as Mette was not placed in the puppy class under Eeva Resko, and Kukka and Lempi got Very Good gradings without any class placements (judges Paula Rekiranta and Eeva Resko). The boys, however, did much better under breed specialist Tapio Kakko: Edi, graded Excellent, won a large junior class and later on the day was awarded the reserve CC. Nuuk put on a beautiful performance, too, and went third (with an Excellent grading) in the competitive Open Class, which had a whopping 27 entries. Nice work guys!
Arttu the Crested went to an eye test 17 Sept. Fortunately, the vitreous leakage that was diagnosed in Arttu's left eye a year ago has not progressed any further. What is more, some suspected cataracts were found and hopefully the next eye test will reveal what the actual diagnose is.
31 Aug 2008
Yppäri group show 30 Aug: Marjatta Pylvänäinen-Suorsa judged an entry of 25 Finnish Lapphunds and we had a nice day which started by Mette going Best Puppy in Breed. Jeppe, beautifully owner-handled for the second time ever, went second in the dog challenge with a reserve CC - well done Minna & Jeppe! Last up was Lempi, who made me proud again by not only taking the Best Veteran in Breed award but also placing second in the bitch challenge over the younger ones. A big thank you for the photos to Hanna Keskitalo (l to r: Mette, Jeppe & Lempi)!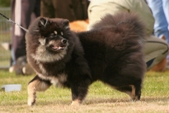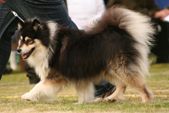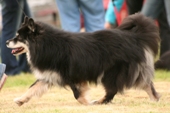 24 Aug 2008
Kuopio International shows 1-3 Aug: Edi and Nuuk were shown at the Friday and Saturday shows with the following results: Edi VG/4 and Nuuk VG/3 under Jari Fors on the Friday, and Edi EXC/2 and Nuuk VG/1 under Eli-Marie Klepp on the Saturday. Furthermore, Jeppe was present on the Saturday and was EXC/3 in the open class.

Quinto, too, was shown that weekend in Belgium and he finished his Belgian title - many congratulations Brenda and Quinto! And yesterday Quinto went BOB at the International show in Mechelen and thereby added one more CACIB to his credit. The show was also a specialty for Lappies, so this was a very nice win for Quinto!

Tallinn International, Estonia 16 Aug: The show was rather a soggy affair, however, the results were so good that we forgot how wet and cold we were! First up was Peppi, who took the CC and CACIB under Maret Kärdi and also went BOB. Then it was Kiara's turn and she repeated this under Heidi Kirschbichler. Both girls are now Estonian Champions and, what is more, Kiara is an International Champion (subject to FCI confirmation)! We also showed two Basenjis, who went BOS & BOB and later on Group-2. Needless to say, we cracked open a bottle of bubbly on the ferry back to Finland!

Kukka's long-awaited hip and elbow scores are finally here: her hip score is B/B and the elbows are normal (0/0).
31 July 2008
Summer specialty of the Lapphund Club of Finland in Rokua 19 July: Yet another class win for Edi, who, in fact, was the only junior dog graded Excellent at the show. Nuuk did very well, too, and despite his lack of coat went second in the intermediate class with a Very Good grading. Lempi got EXC/3 in the veteran class. Adult Lappies were judged by Raimo Viljanmaa, whereas puppies were put through their paces by Marjatta Pylvänäinen-Suorsa. Mette made her debut and, much to my delight, showed very nicely and went second in the baby puppy class with a honorary prize. To top off the nice day, yours truly had the pleasure of judging the Junior Handling and Children's Handling competitions.

Ylivieska International 20 July: This was the second show for Nuuk and Edi over the weekend and I was delighted to get a text message saying that Edi had been awarded his second CC by Matti Tuominen! He was placed third in the dog challenge. Nuuk repeated his result from the day before: VG/2 in the intermediate class. Well done! Edi photographed below by Hanna Keskitalo - thank you again!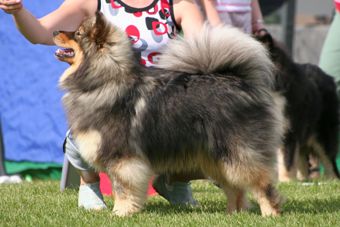 13 July 2008
Oulu International 12 July: Edi added one more junior class win to his credit, this time graded Very Good by Paula Heikkinen-Lehkonen. However, the star of the day was Nuuk, who not only won his class with an Excellent grading but also went fourth in the very competitive dog challenge and took his second CC despite the fact that he was sporting a very summery look with hardly any undercoat left. Way to go Nuuk & owner Pirjo! This beautiful headshot of the always smiling CC winner is by Hanna Keskitalo - thanks!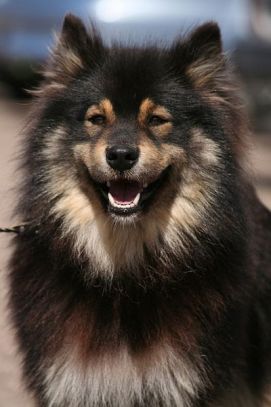 Some new health results for Kukka: she had clear eyes and her hips and elbows looked good in the x-rays (the final scores will arrive from the Finnish Kennel Club in a few weeks' time). The best news, however, was that Kukka's left patella had improved with age and it was diagnosed with only mild patella luxation (grade 1). The right patella is free from PL (grade 0). Thank you Johanna for having Kukka examined!
2 July 2008
Show ring news from May and June:

Himanka group show 17 May: Jeppe VG/2 in the open class and Hertta, who was out and about for the first time in almost five years, EXC/2 in the champion class & fourth in the bitch challenge under Arvi Ellmén.

Sotkamo group show 24 May: Graded Excellent, Edi won the junior class, went third in the dog challenge and was awarded a reserve CC, whereas Nuuk won his class as well with a Very Good grading. The judge was Esko Salkonen.

Kestilä group show 25 May: Edi VG/1, Nuuk G, and Jeppe EXC/2 under breed specialist Jukka Kuusisto.

Piteå International, Sweden 31 May: Peppi went second in the open class and Lempi won the veteran class, both with an Excellent grading. They ended up being placed fourth and fifth in the bitch challenge by Tina Permo. Lempi also went BOS veteran. Tina Permo was also judging Pharaoh Hounds and gave Kiara CACIB & BOS!

Raahe group show 7 June: Edi EXC/1 & fourth place in the dog challenge under Sakari Poti. What is more, he went on to take the CC - congratulations are in order for this handsome youngster! Thank you Hanna Keskitalo for the lovely photos below.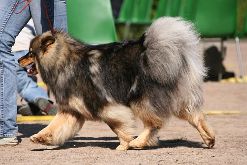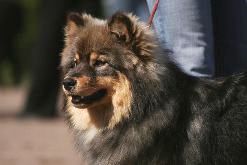 Suomussalmi group show 14 June: Nuuk went VG/1 under Arvi Ellmén.
Gällivare International, Sweden 21 June: We almost gave this show a miss as Kiara had got her Swedish CACIB at Piteå a few weeks earlier so there was nothing left for her to achieve. Lempi the golden oldie was only entered for fun as she likes going to dog shows. The evening before the show we decided to go anyway and it turned out to be the right decision since Lempi won the veteran class, went second in the bitch challenge and got the CC, which makes her a Swedish champion at the age of 11.5 years! Furthermore, she was BOS veteran again. The judge on the day was Ing-Marie Hagelin.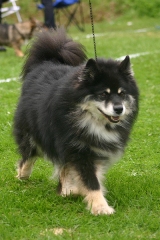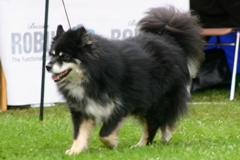 14 May 2008
Kukka went VG/4 under Teuvo Kangas at Vaasa International 27 Apr and VG/1 under Sakari Poti at the all-breed show in Rauma 11 May.

Kiara took part in a lure coursing competition at Kajaani 3 May and made her way into the finals. Her final score was 217 + 187 = 404 points.

Kukka attended her fourth obedience trial 4 May and once again went home with a First Prize (177.5 points/fourth overall)! As this was Kukka's third such award in the Open Class, she gained the Finnish obedience degree TK2. Congrats Johanna & Kukka!
22 Apr 2008
Recent show results:

Kajaani group show 13 Apr: Nuuk was graded Good and Edi Very Good with a second place in the junior class under Leni Finne.

Kiuruvesi group show 19 Apr: Nuuk was graded Very Good & placed second in the intermediate class by Pekka Kortekangas.

Pyhäjärvi group show 20 Apr: Nuuk (photographed right) EXC/1 & 2nd in the dog challenge with his first CC - congrats Pirjo & Nuuk! Miina (photographed left by Titta Repo) made her debute going VG/3 in the junior class, and Lempi's result was EXC/1 & 3rd in the bitch challenge & BVIB. Lappies were judged by breed specialist Eija Lehtimäki, who also adjudicated in the Best Veteran in Show ring and placed Lempi Runner-up to BVIS!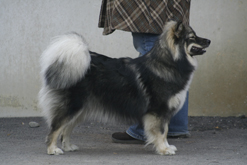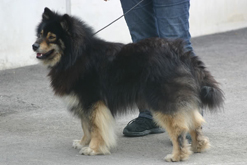 7 Apr 2008
Lestijärvi group show 5 Apr: Lempi went Best Veteran in Breed under Sakari Poti (photo on the left by Titta Repo) and 2nd runner-up to Best Veteran in Show under Markku Santamäki (photo on right by Minna Väänänen)!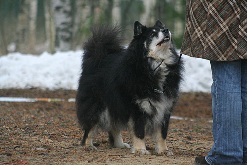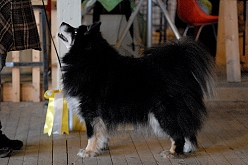 4 Apr 2008
Last weekend was full of action so here is a brief summary of what was going on. On the Saturday, Kukka was competing in her second ever Open Class obedience trial and this was a repeat performance from the last time: Kukka got a First Prize scoring an impressive 196.5 points out of the maximum of 200 points. What is more, she was again placed first in the overall ranking and awarded a honorary prize. As the obedience trial was held at the Spring specialty of the Finnish Lapphund Club, Kukka also got a special prize for being the best-placed Lappie in the Open Class. Not to be outdone, Peppi also took part in an obedience trial (her first ever) and now has a First Prize (170 points) from the Novice Class to her record. She was placed sixth in the overall ranking. However, this was not enough for Peppi and Kati - in the evening they took part in an agility competition and scored their qualifying clean run for the Midi Agility 3 class. Wow!

On the Sunday, Kukka made an appearance in the show ring at the Lappie specialty and took a very nice placing in the huge intermediate class: she was graded Excellent and went second in the class under Paula Heikkinen-Lehkonen. She was only beaten by her half sister Fihtolas Åfelia, who is also sired by Cantavia Leijonamieli. Peppi and Kati attended their first Midi 3 class competitions without any major success, however, I am sure this is not the last we will hear from them! As for yours truly, Elina and I drove to Boden, Sweden, to show Kiara the PH at a sighthound specialty. I am glad we did as Kiara went BOB and got her crowning Swedish CC under Shamil Abrakimov. Kiara is now a Swedish champion! Thank you Aino Mäkelä for the photos below.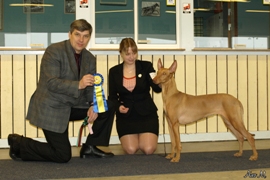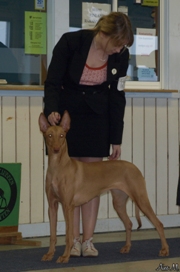 28 Mar 2008
Peppi and Kiara were eye tested yesterday. Peppi's eyes are clear, however, Kiara was diagnosed with MRD. Fortunately nothing more serious was found. What is more, Kiara's patellas were examined and they are normal.
26 Mar 2008
Introducing my new import from Denmark: this is Lapinlumon Aarni (d.o.b. 30 Dec 2007). He is by Orso-Farm Caamos out of DK Ch Lapinlumon Kiiski.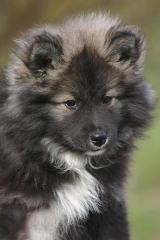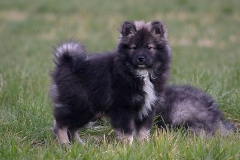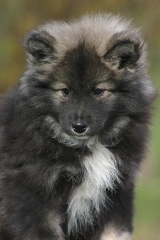 Kukka was shown at the Ruovesi group show on 24 Mar. This time she was graded Very Good and placed fourth in her class by Hannu Talvi.
18 Mar 2008
Kukka took part in a reindeer herding test at Sodankylä 9 Mar and passed it with flying colours! She got an excellent evaluation from the judges. Thank you Johanna and Kukka for making the long journey to Lapland! Photos by Kaisa Hurme.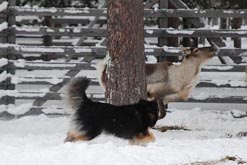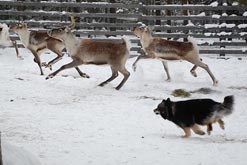 Tanhu's puppies have now moved to their new homes. Pakkaslumi lives in Pudasjärvi, Piimäsuu in Pyhäntä, and Pohjantähti in Ylivieska, whereas the only bitch in the litter, Poutapilvi, stayed here in Oulu.
6 Mar 2008
Orso-Farm Tanhuvilla's hip and elbow evaluations are finally here: her hip score is left B, right A, and she has normal elbows (0/0).
27 Feb 2008
The DNA test results are in: all four puppies are sired by Orso-Farm Atninbeaska.
25 Feb 2008
Tornio group show 23 Feb: out of the five dogs entered from our team, Nuuk was the only one who actually made it to the ring as the other owners and one of the dogs were feeling too poorly to travel to the show. Nuuk was graded Very Good by Saija Juutilainen and placed second in the intermediate class out of seven dogs. Well done!

Peppi took part in a couple of agility trials over the weekend and managed to snap up one more clean run and a win in the Midi Agility 2 class, so she only needs one more such achievement to qualify for the Midi Agility 3 class. What excellent news!
14 Feb 2008
Orso-Farm Tanhuvilla, the dam of the current litter, has now been to the vet's for her hip and elbow x-rays. Both looked excellent, however, let us wait for the final score from the Finnish Kennel Club. Tanhu's patellas were examined, too, and they are normal.

The pups' as well as parent candidates' DNA samples are now being analysed and the results are expected to arrive by the end of the month.
10 Feb 2008
Nuuk and Doris had their eyes checked 8 Feb. Nuuk was clear, however, Doris was not as lucky. A DNA test earlier showed that she was genetically prcd-PRA affected, and unfortunately the disease has now progressed to a stage where it can already be seen by an ophthalmologist. Now let us hope Doris does not go completely blind :( Thank you Pirjo and Hannakaisa for having your dogs examined!
3 Feb 2008
Kiara was graded Excellent by Andre van den Broek at Turku International 26 Jan.
20 Jan 2008
Nuuk has been to a couple of shows with nice results: first he was graded Very Good and placed third by Paula Rekiranta at Kajaani Int'l 5 Jan. Then the Spitz Clubs' specialty in Kuopio 20 Jan went even better as Nuuk was graded Excellent and won the junior class under breed specialist Tapio Kakko out an entry of 95 Lappies.

Kukka competed in her second obedience trial ever 6 Jan, this time in the Open Class. Again, she got a First Prize and is now eligible for the Advanced Class - at the age of 16 months! What is more, Kukka was placed first in the overall ranking and awarded a honorary prize. Excellent work again, Johanna and Kukka!
13 Jan 2008
Finnish Lapphund puppies born 12 Jan.