News & updates 2014

6 Dec 2014
Helsinki Winner 2014, Helsinki Fair Centre 6 Dec: Netta graded Excellent in the champion class under Anneli Pukkila.
22 Nov 2014
Vuokko's Pompe disease status is Normal/Clear.
9 Nov 2014
Vuokko had her health tests done this week and the results are top notch: her eyes are clear and she is free from patella luxation and heart murmurs. What is more, her hip and elbow scores came back from the Finnish Kennel Club as A/A & 0/0. Very happy! Vuokko's Pompe disease status will be available soon.

Vappu's page updated with a new photo - thank you Sari Ojala!
11 Oct 2014
Autumn Specialty of the Lapphund Club of Finland, Oulu 5 Oct: I was chairing the show committee of this huge event (271 dogs entered out of which 177 were Finnish Lapphunds) so was busy as a bee throughout the weekend, however, the Cantavia team was represented by a couple of dogs and their owners: Halla got a very nice third place in the junior bitch class of 19 while Papu was graded VG. Myy got an Excellent grade in the intermediate class. Finnish Lapphund bitches were judged by Sakari Poti.

Harstad International, Norway 5 Oct: Shown by Pinja Lämsä, Vuokko took a third place and a CQ grading in the champion class under Børge Espeland. Thank you Pinja for taking Vuokko with you!
28 Sept 2014
Sylvi's puppies moved to their new homes early September. Otso stayed next door to his mum at Pyhäntä while Iita now resides at the Hallanoron kennels at Vuokatti. Usva became the newest member of my team and lives in Oulu with Lappie enthusiast Jenna Sergejeff. Thank you Matleena and Heikki for taking such super care of the babies!

Helsinki all-breed show 7 Sept: I would not normally bother travelling all the way to Helsinki just for a regular all-breed show, however, with so few Finnish Lapphund breeder judges in the world, I try to show my dogs under them every chance I get. As Kielo is bred by one and co-owned by another, getting her evaluated by a breeder judge is a particularly rare treat. Toni Jackson (Elbereth) of the UK had an entry of 37 to sort out and Kielo, well liked by all breeder judges so far, was also to Ms Jackson's liking and went all the way to Best of Breed! Photo below by Harri Kivimäki (also shown is the newly crowned champion Lumiturpa Leisku).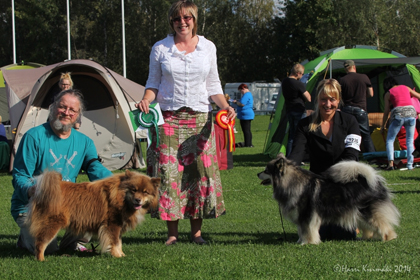 Varpu's hip and elbow scores are here: her hips are B/B and elbows 0/0. Thank you for having Varpu x-rayed!
Minea's photo page updated.
31 Aug 2014
Fuglebjerg Spitz Specialty, Denmark 2/3 Aug: Kilpi was shown on Danish soil under Ashleigh and Terri Griffin from Ireland. On Saturday, she won the junior class with a CQ grading and was awarded a junior CC, while on Sunday she was graded VG. Well done Kilpi!

Valkeakoski all-breed show 16 Aug: Vuokko travelled to Valkeakoski with the talented junior handler Pinja Lämsä, who did a splendid job with Vuokko and returned her to me with a stack of rosettes - from an entry of 14 exhibits, Erja Nummi gave Vuokko best bitch and the CC, which made her a Finnish and Swedish champion (she had a Swedish CC won at a specialty as a junior stashed away)! The below photo by Harri Kivimäki shows Vuokko and BOB winner C.I.B/UK/LU Ch Elbereth Matkamies, who also gained his Finnish title on the day - congrats Matka & his crew!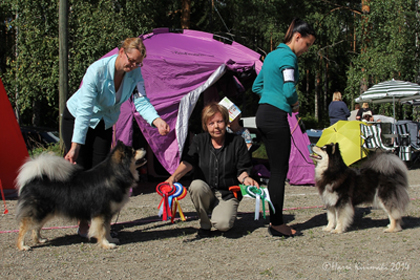 Ii group show 16 Aug: A rather naked Papu (photographed left) attended her first junior class show and got a Very Good grade and a second place in the class of four from Katja Korhonen. Myy (photographed right) was graded Good in the intermediate class. The Finnish Lapphund entry consisted of 12 dogs.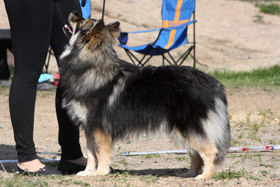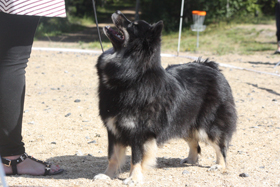 Kemijärvi group show 16 Aug: Aila Lehmussaari judging an entry of seven Finnish Lapphunds, Halla won the junior class with an Excellent grade, whereas her sister Ronja was third with a Very Good grade.
Koda was temperament tested at Hamina on 17 Aug by Tarja Matsuoi and Leena Turunen. His final score was +125 points and he was gun sensitive. Thank you for having Koda tested!
12 Aug 2014
World Dog Show 2014, Helsinki 9 Aug: Unquestionably the top event this year, WDS 2014 attracted a staggering entry of 526 Finnish Lapphunds. Even though about one third of the entry was absent, as many as 343 actually made it to the ring and it was truly an exciting and emotional moment to witness the Jeppe grandson/Nuuk son Petäjämaan Viksu go all the way to the top spot under breed specialist Saara Sampakoski! Congrats one more time Pirjo and Viksu! As for my team members, Papu did very well taking the second place and a prize of honour in the bitch puppy class under Kirsi Honkanen. Elina Haapaniemi adjudicating in the open dog class ring, Koda got a Very Good grading. Junior bitches were judged by Mari Lackman and what a pleasure it was to see Siehkku take a fourth place in the enormous junior bitch class (76 entered out of which 42 were shown, if I counted correctly), especially considering she is moulting like anything! Varpu was graded Very Good by Tuula Savolainen while Kielo got an Excellent grading from Mari Lackman. I only brought one dog with me but ended up showing quite a few, so it turned out to be quite a hectic day and I did not have a chance to chat with everyone - my apologies! Nevertheless I had a really good time in and by the ring, and when the judging was over there was one more highlight in store for Kielo and I as we were asked to be one of the Finnish Lapphund representatives in the parade of the five native breeds right before the group judging commenced in the main ring. What a lovely experience! Kielo pictured in the breed ring by Taru Vallius.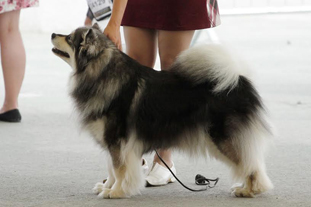 4 Aug 2014
Kiiminki group show 2 Aug: While I was attending to puppy watch duties, co-owners of Aarni and Myy kindly took their dogs as well as my Vuokko to a local show held in the nearby town of Kiiminki. Raimo Viljanmaa judged an entry of 14 Finnish Lapphunds and our dogs got the following grades and awards: Aarni got a Very Good grading and was placed second in the open class, while Myy, attending her first "adult" show, won the intermediate class and went on to second runner-up in the bitch challenge with a reserve CC. Graded Excellent, Vuokko was placed third in the champion class and got a CQ ribbon. Thank you Johanna and Jonna for showing the dogs in my absence! Photos by Taru Vallius (top left: Aarni, top right: Vuokko, bottom row: Myy).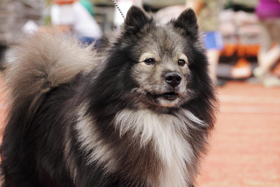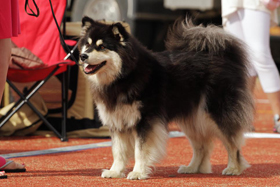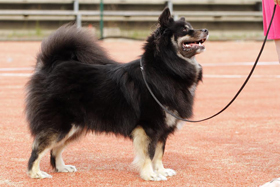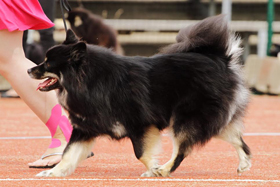 Myy's gallery updated - thank you Taru Vallius for the lovely shots of Myy!
23 July 2014
Kemi International 20 July: Papu's first time out could not have gone any better as she went Best Puppy in Breed under Saija Juutilainen. Halla did really well, too, winning the JB class with a CQ grading. Congrats to both! Photo of Halla courtesy of Johanna Pylvänäinen.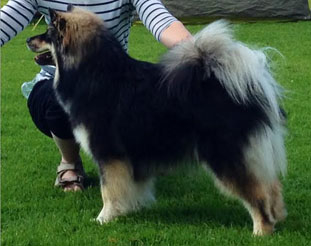 Sisu's spine x-ray results are now available: he has no lumbosacral transitional vertebrae (LTV0) and is free of spondylosis (SP0) and vertebral anomalies (VA0).
A new photo added to Remu's page. Thank you owner Tuula Mursu!
17 July 2014
Sylvi's puppies are here! One boy and two girls (all black & tan) born on 16 July.

Swedish Lapphund Club Specialty Piteå, Sweden 4 July: Siehkku graded VG by Gunilla Sandberg.

Piteå International, Sweden 5 July: Siehkku (pictured left) VG/4 and Kilpi (pictured right) VG under Leni Finne. Photos © Jenna Sergejeff.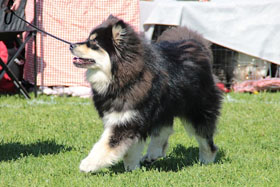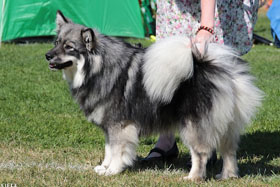 Sisu's hip and elbow scores are back from the Finnish Kennel Club: his elbows are 0/0, however, unfortunately the hip score is D/D. Thank you Pia and Anne for having Sisu examined.
2 July 2014
Gällivare International, Sweden 29 June: Marko Lepasaar of Estonia graded Kilpi Excellent and placed her second in the junior class. Well done!

Myy's profile picture and gallery updated. What is more, Raiku, Netta, and Minea's photo galleries are now in place.
25 June 2014
Exciting puppy news! Sylvi is confirmed in whelp to Kuurakuonon Caskikettu.

Suomussalmi group show 7 June: Jetta Tschokkinen judged an entry of 17 Finnish Lapphunds. Excellent gradings were few and far between (only three awarded), however, Siehkku was one of the lucky few. Not content with that, she went all the way to Best of Breed gaining her second CC (not even ten months old)! Congrats one more time Siehkku & Pirjo!

Tromsø International, Norway 15 June: We had a lovely trip to northern Norway, enjoying the magnificent landscapes to the fullest. 35 Lappies entered under Elisabeth Spillman, the competition was extremely stiff and I was happy to see Siehkku win her class and get a CQ ribbon. Vuokko got an Excellent grading in the very competitive champion class. Thank you for the fun trip Matleena, Titta & Pinja! Vuokko is pictured below admiring the view at Kilpisjärvi.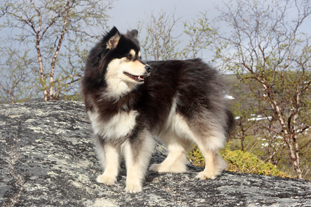 Vännäs all-breed show, Sweden 15 June: Kilpi graded Very Good and placed second in the junior class by Tanya Ahlman-Stockmari.
Rovaniemi International 21 June: Halla Very Good and a second place in the junior class, whereas Ronja got graded Good under Matti Tuominen.
1 June 2014
Kittilä group show 17 May: Three Cantavia dogs shown under one of our breed specialists Tapio Kakko and all did very well: Nuuk got a second place in the champion class with a CQ, while Kielo's kids took a double victory at their first show in the junior class with Siehkku winning and Ronja coming in second. In fact, Siehkku was the only bitch that was awarded a CQ ribbon, so she took her first CC and went BOS! Photos by Pirjo Kivijärvi: Nuuk (left), Ronja (right), and Siehkku BOS to Kontioharjun Kaamos (bottom).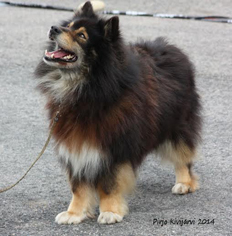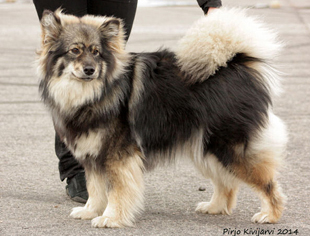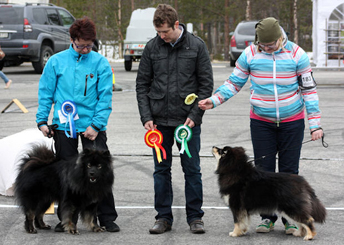 Piteå all-breed show, Sweden 17 May: Kilpi's first show as a junior went very well, too: Erja Nummi of Finland gave her a VG grading and placed her second in the class. Photo by Elisabet Laestander.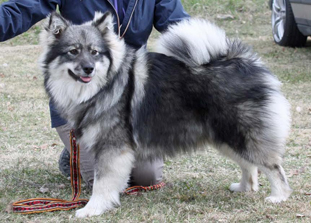 Oulu International 18 May: Another show for Siehkku and Ronja over the weekend and both were placed in a large junior class of ten bitches under Tapio Eerola: Siehkku was second with a CQ and Ronja was fourth. Photos by yours truly (Siehkku left, Ronja right).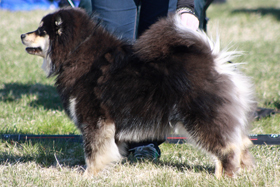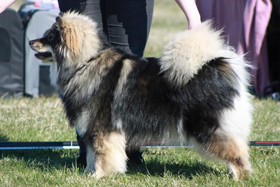 Siilinjärvi group show 24 May: Siehkku graded VG and placed second in the class by Jari Fors.
Muurola group show 24 May: Halla made her junior class debut, too, and took a second place while her sister Ronja was fourth, both with a VG grading from Anneli Pukkila. Photos by Jenna Sergejeff (Halla left, Ronja right).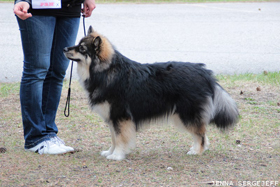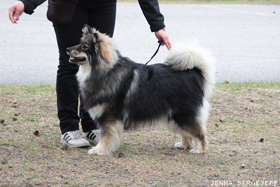 Varpu is prcd-PRA and Pompe disease Normal/Clear. Thank you for this brilliant news Riitta, Milla & Titta!
16 May 2014
Rekku has a hip score of C/C and clear eyes - thank you Sirpa & Petri!
10 May 2014
Posio group show 3 May: Siehkku competed in her last puppy class and did it with style going Best Puppy in Breed under Jaana Hartus. Photo by Mari Limnell.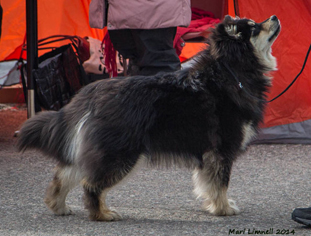 Kalajoki group show 3 May: Halla earned a BP rosette as well (judge Maija Mäkinen). Photo by Jenna Sergejeff.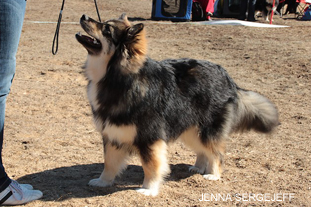 Burträsk, Sweden 3 May: Not to be outdone by her litter sisters, Kilpi was also awarded Best Puppy in Breed. Well done all three and keep up the good work in junior classes!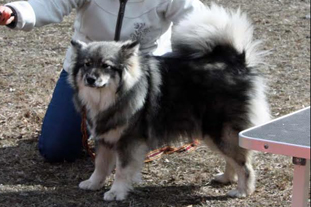 Maalahti group show 4 May: Vuokko went runner-up to best bitch with a reserve CC under Leni Finne - thank you Minna Suihkonen for taking Vuokko with you and showing her!
Some excellent health results for Nasti: he has clear eyes and is free from heart murmurs. We also had his patellas re-examined due to his dam's knee problems, and the vet described them as "perfect", so his patella score remained unchanged (0/0).
29 Apr 2014
Photo galleries added for Kielo and Vuokko.
21 Apr 2014
Ylistaro group show 19 Apr: Sylvi attended her third show ever and pulled off a hattrick - she is now a champion! 19 Finnish Lapphunds entered, she was Sakari Poti's choice for Best Bitch and Best Opposite Sex. We are over the moon! Photo by Riikka Koskela.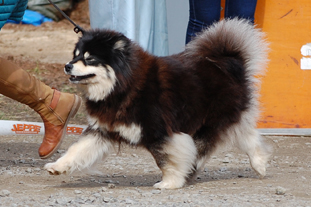 18 Apr 2014
Kielo and Vuokko took part in a reindeer herding aptitude test in Pello on 6 Apr. Kielo did a splendid job and passed the test, whereas Vuokko was perhaps a tad too immature and got a bit overexcited on one or two occasions, so her evaluation was "retesting recommended". She did have many good qualities though, so we will definitely have another go later. Photo of Kielo in the reindeer paddock by Krista Haataja.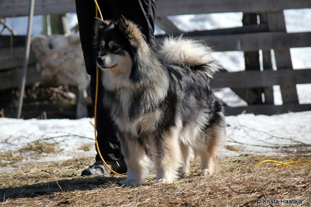 Minea has had an epileptic seizure. While this was no surprise considering her sire and litter sister are epileptic, it was still sad and disappointing news. Let's hope the seizures stay at bay as much as possible. There is some better health news, too: both Koda and Varpu have clear eyes and are free of heart murmurs, and Varpu's patella score is 0/0. Many thanks Riitta & Milla!
1 Apr 2014
Four of Kielo's daughters were shown in puppy classes over the weekend and they collected five prizes of honour in total. Congratulations to all of them from a proud breeder!

Kemijärvi group show 29 Mar: Ronja BOS puppy under Tuula Pratt. Photo © Teemu Pyhäjärvi.
Stöcksjö, Sweden 29 Mar: Kilpi BOB puppy.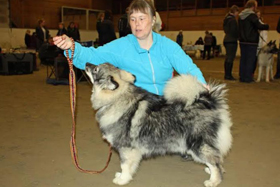 Spring Specialty of the Lapphund Club of Finland, Nurmes 30 Mar: Siehkku (top left) BOS puppy, Halla (top right) third in the bitch puppy class with a prize of honour, Vuokko (bottom left) graded Very Good and Kielo (bottom right) graded Excellent under Jaana Hartus. Photos by me (top row) and Taru Vallius (bottom row).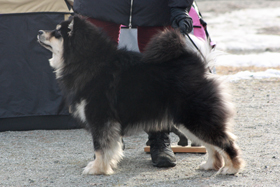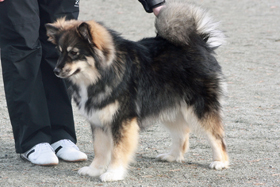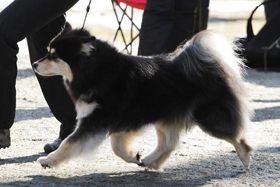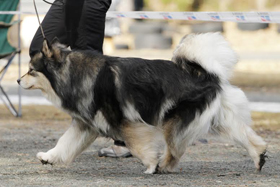 Jekku's eyes were examined and they are clear - thank you Päivi!
29 Mar 2014
Kajaani group show 29 Mar: Siehkku Best Puppy in Breed under Mari Lackman. Well done Siehkku and Pirjo! Photo by Jenna Sergejeff.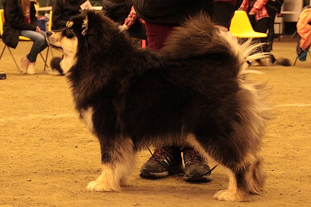 Nuuk eye tested clear - thank you Pirjo for this excellent news.
Papu has her personal page now (finally!).
6 Mar 2014
Good news from Laboklin: Sylvi is prcd-PRA and Pompe disease Normal/Clear.
2 Mar 2014
Laihia group show 22 Feb: The 18 Finnish Lapphunds entered were put through their paces by Matti Palojärvi. Our team was represented by Päivi's boys Jekku and Jippo as well as my Sylvi. First up was Jekku, who got his very first Excellent grading (a slow maturer) with a third place in the open class - a promising start for the day. However, there was more to come as Jippo and Sylvi pulled off a double whammy, taking BOS and BOB! Both are now one CC short of becoming champions. I then took Sylvi into the group ring adjudicated by Sakari Poti and she went on to take Group-2. This was Sylvi's second show ever and she now has a BIS and Group-2 to her credit! I am extremely chuffed with all three dogs' results - thank you Päivi for accompanying me on this fantastic day, and for the photos below (top left Jekku, top right Jippo, bottom left & right Sylvi).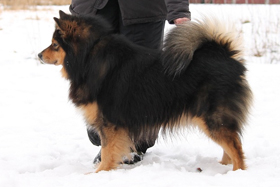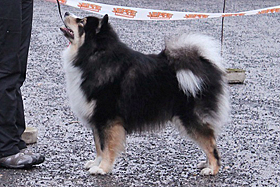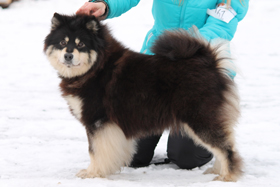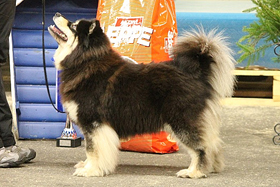 Halla's page updated with a new photo - thank you owner Johanna Pylvänäinen!
10 Feb 2014
Now this was fast! Sylvi was x-rayed late Friday afternoon on the 7th of February, and her hip and elbow scores became available early afternoon today - kudos to the Finnish Kennel Club! Sylvi's hip score is B/B and elbow score 0/0.
9 Feb 2014
Kuopio Spitz Specialty 25/26 Jan: The last weekend of January hosts a major annual get-together of spitz folk (hunting and herding spitz breeds). Saturday's lectures, workshops and other activities combined with Sunday's huge specialty show attracted an entry of 140 Finnish Lapphunds. Thorough conformation examinations organised by the Breeding Committee of the Lapphund Club of Finland are a permanent fixture of the event, and this year's breeder judge panelist was Tapio Kakko whereas I was representing the Breeding Committee. I excused myself from the role for a moment to have my Vuokko examined, and she was "Approved for breeding". On Sunday, Siehkku, the first of Kielo's kids to hit the show rings, won the baby puppy class and went runner-up to best bitch puppy out of twenty puppies. Judge Reino Korpela wrote in his critique: "A star in the making"! Adult bitches were judged by Pekka Teini and Vuokko got a very nice third place with a CQ ribbon out of twelve open class bitches. Photos by Heli Leskinen (left) and Paula Martiskainen (right).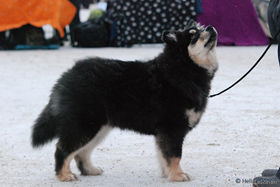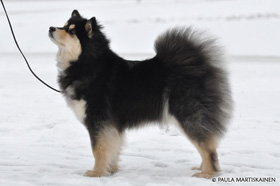 Health news: Jippo's long-awaited hip and elbow scores are here: his elbows are clear (0/0), however, the hips are C/D. Sylvi has clear eyes and is free from patella luxation and heart murmurs (hip and elbow scores subject to Finnish Kennel Club evaluation).
19 Jan 2014
Meet the newest team member: this is the lovely Savumerkin Papu, co-owned in partnership with Tapio Kakko. Papu lives in her home kennel with her breeder Sanna Vettenranta. Watch this space for more information! Photos by Sanna Vettenranta (left) & yours truly (right).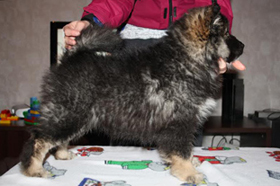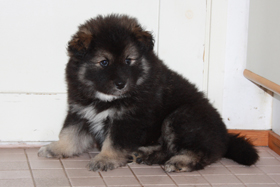 Sisu's Pompe disease test result is here: he is Normal/Clear. Thank you Pia and Anne!
A new photo on Kilpi's page - thanks Elisabet!