News & updates 2016

8 Dec 2016
Norwegian Winner 2016 show Lillestrøm, Norway 20 Nov: A nice debut for Svea who went BOS puppy under Maija Lehtonen of Finland.

Tampere group show 6 Dec: Hali EXC/2 in the intermediate class under Jetta Tschokkinen.

Ruska and Kira eye tested clear. What is more, Kira now holds clear patella and heart certificates. Thank you Mira & Mervi!

Halla's pups have moved to their new homes and will be getting their personal pages soon.
13 Nov 2016
Inspired by the great hip and elbow scores of his litter sisters, Viima was x-rayed, too, and with brilliant results: his hip score is A/A and elbow score 0/0. Congrats & thanks Leila!

Minni's picture updated.
9 Nov 2016
Seija was tested for Denegerative Myelopathy because of her dam's recently discovered DM carrier status, and turned out to be a carrier as well. Thank you Diane for having Seija tested.
2 Nov 2016
Yet another fantastic piece of news regarding the health of the L2 litter: Kira's hip score is A/B and elbow score 0/0!
28 Oct 2016
Health news: A full set of health checks done on Saimi with top notch results - hip score A/A, elbow score 0/0, patella score 0/0, and clear eyes. Thank you Annikki! What is more, I had Vuokko tested for Degenerative Myelopathy (DM), because her son Viima (whose sire is DM Normal/Clear) was earlier tested as a carrier. I wanted to find out whether Vuokko was at risk or just a carrier, and she turned out to be the latter - phew!

New picture on Svea's page.
16 Oct 2016
Halla's puppies are here! Three boys and three girls born on 10 Oct.

Spitz Specialty Zutphen, the Netherlands 18 Sept: Seija VG/3 in the intermediate class under Mw. J.J. Vink.

Zwolle International, the Netherlands 1 Oct: Seija second in the bitch challenge with res CC & res CACIB under Pirjo Aaltonen of Finland.

Zwolle all-breed show, the Netherlands 2 Oct: Seija VG/1 under Germany's Jan Meijerink.

Autumn Specialty of the Lapphund Club of Finland, Tornio 9 Oct: First-timer Nuttu (shown in baby puppy) went all the way to BOS puppy out of 22 Finnish Lapphund puppies! She was chosen best bitch puppy by Hannu Talvi while the BP challenge was judged by Kurt Nilsson of Sweden. Viima was graded VG and Nuuk took a nice EXC/3 placing in the large veteran class under Mr Nilsson. Kielo was shown in the very competitive champion bitch class and, graded Excellent by Hannu Talvi, was the last to leave the ring before the four best were placed. Nuttu pictured below with BP-winning Savumerkin Yömyytti.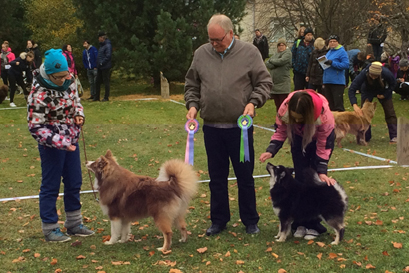 Some very nice health news: Seija's hips and elbows came back from Raad van Beheer (Dutch Kennel Club) as A/A & 0/0. What is more, Viima had an eye test at the Specialty and turned out to have clear eyes. Thank you Diane & Piet and Leila for having you dogs examined!
Nuttu's personal page and photo gallery updated - thank you Taru!
15 Sept 2016
Puppy news! Halla is in whelp to Touhu-Ukon Bingo.

Minsk International, Belarus 10-11 Sept: Pirjo travelled all the way to Minsk with her Siehkku and the special guest star Viima (pictured below). Saturday's judge Jean Blangino gave CCs, CACIBs and Belarus Winner 2016 titles to both of them and Siehkku also got her Belarus champion title. Mr Blangino's choice for Best of Breed was Viima. On Sunday, Iuza Beradze also gave Viima CC, CACIB and BOB (so Viima finished his Belarus title, too), however, Siehkku had to be content with an Excellent grading. Congrats and thanks Pirjo & Leila!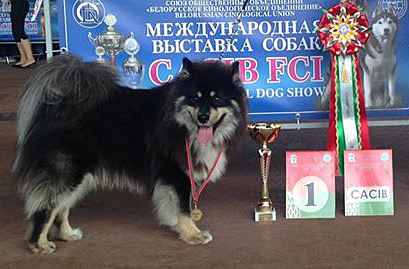 7 Sept 2016
Kuopio International 5-7 Aug: Saimi was shown at the three back-to-back international shows and got the following placements in the intermediate class: VG/2 (Friday, judge Marja Talvitie), EXC/2 (Saturday, judge Mari Lackman), and VG/3 (Sunday, judge Tuula Savolainen).

Kittilä group show 6 Aug: Viima graded Very Good and placed second in the junior class by Juha Putkonen.

Oulu International 13 Aug: Viima's last outing as a junior, he got an Excellent grading from Sweden's Kurt Nilsson and was placed second in his class.

Överkalix all-breed show 14 Aug: Kilpi VG/4 in the open class under Paula Heikkinen-Lehkonen.

Ruovesi group show 21 Aug: Hali won the junior class with a CQ grading. Placed third in the dog challenge, he got the reserve CC under Reino Korpela.

Yppäri group show 28 Aug: Hali's first time out in the intermediate class and he won it with a CQ grading under Sakari Poti.

Health news: Seija has been eye tested clear, and Iita hip and elbow scored: hips C/B, elbows 0/0. Thank you owners! What is more, Vuokko's patella certificate was recently renewed.
3 Aug 2016
Kärsämäki group show 30 July: Saimi went runner-up to best bitch with a reserve CC under Esa Ruotsalainen (who has bred a couple of Lappie litters himself) out of an entry of 27 Finnish Lapphunds. Well done Saimi!

Ristijärvi group show 31 July: 22 Lappies entered under Markku Mähönen and we got the following results: Hali Very Good/2, Nuuk Best Veteran in Breed and fourth in the dog challenge, and Siehkku, the dark horse of the day who was certainly not sporting her best coat, went BOB! Winning her crowning CC, she added both Finnish and Swedish champion titles to her name. Congratulations Siehkku & Pirjo!
27 July 2016
Myy was palpated and scanned by a vet today and unfortunately it turned out she is not in whelp. Since this was the second attempt with Stallone, I will have to make new plans for Myy's next season.
25 July 2016
Oulu International 9 July: Viima EXC/2 & CQ in a large junior class under Jussi Liimatainen.

Kokkola International 10 July: Otso (who had hardly any undercoat left) was graded EXC and won the intermediate class under breeder judge Eija Lehtimäki.

Mäntsälä all-breed show 16 July: Koda EXC/3 under Jari Fors.

Kuusamo group show 16 July: Raimo M Viljanmaa judged an entry of 39 Finnish Lapphunds, out of which five were bred by me, and the results were a cause for celebration - Viima won the junior class and was runner-up to BD, while litter brother Hali won the intermediate class and beat Viima for Best Dog. So Hali took the CC and Viima the reserve. What is more, Hali then went on to BOB! Nuuk was Best Veteran in Breed, and the girls Siehkku and Usva were both graded VG. To our great surprise, the totally undercoatless Usva was placed fourth in the open class out of 11 exhibits. For the second time this summer we had enough Cantavia dogs entered to show a team and went Best Team in Breed. With Best of Breed, Best Veteran and Best Team under our belts, we made three appearances in the big ring and got a placement each time: Nuuk went fourth in the Best Veteran in Show competition under Paula Heikkinen-Lehkonen, Hali third in the spitz group under breed judge Raimo M Viljanmaa, and finally the Cantavia team got a fourth place under Paula Heikkinen-Lehkonen. Thank you owners and handlers for this wet but fantastic day! Photos by Emilia Laakkonen (Hali) and Mika Koivuluoma (from left to right: Hali, Nuuk, Viima, and Siehkku).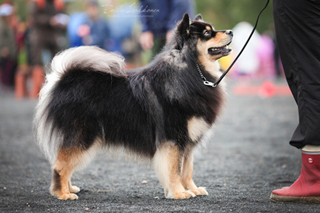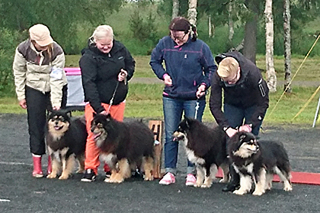 Kemi International 23 July: Viima VG/3 under Markku Kipinä.
Usva's prcd-PRA and Pompe disease results are back from Laboklin: she is Normal/Clear with regard to both diseases.
8 July 2016
Exciting news from the Finnish Kennel Club - I am thrilled to announce that I have been granted the prestigious Vuolasvirta award, the highest recognition bestowed on a breeder by the Kennel Club. I am especially proud of the fact that I collected the points with my first ten consecutive litters (born between June '01 to Feb '11). A big thank you to all of my puppy buyers who contributed to this great achievement and made a dream come true!

Puppy news: Myy has been bred to Niihtun Stallone. If the breeding is successful, pups will be due late August.

Health update: Edi has been diagnosed with hypothyroidism. Luckily he is responding to the medication very well and his thyroid readings are within the reference range. On a brighter note, we have some more great health results for Usva (who was recently hip and elbow scored with good results): she has clear eyes, a patella score of 0/0 and a clear heart certificate. What is more, we are waiting for her prcd-PRA and Pompe disease statuses back from Laboklin.
29 June 2016
Siilinjärvi group show 21 May: Otso VG/4 and Saimi EXC/4 under Erja Nummi.

Iitti group show 29 May: Varpu graded Good by Juta Haranen.

Kajaani group show 5 June: a whole bunch of dogs carrying the Cantavia prefix shown under Reino Korpela and the results were stellar (considering the stiff competition with 68 Finnish Lapphunds entered). First-timer Hali won the JD class with a CQ and was fourth in the dog challenge, with litter brother Viima right on his tail (EXC/2 & CQ). Nuuk went Best Veteran in Breed, while Kira got an Excellent grading in the JB class, Iita Very Good/3 in intermediate bitches, and finally Siehkku EXC/2 & CQ in the OB class. What is more, I showed a team after a break of many years and we won Best Team in Breed. In the big ring there were eight teams in total and Anita Al-Bachy gave us Best Team in Show! This is only the third Cantavia team ever shown, and second Best Team in Show win :) Thank you owners and handlers one more time. Photo by Jos Schreurs (from left to right: Hali, Nuuk, Viima, Siehkku).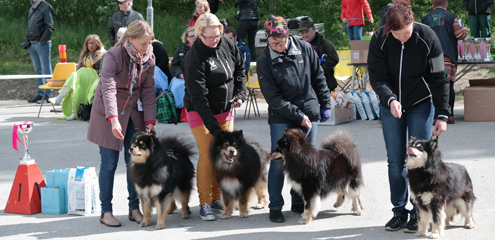 Uden International, the Netherlands 18 June: Seija VG/1 under Gerard Jipping.
Otso was MH temperament profiled (a type of temperament test available in Finland and Sweden) at Kärsämäki 12 June by Jorma Kerkkä and Anne Kuivinen. Otso's profile is pretty much that of an average Lappie. Thank you Linnea!
Seija was prcd-PRA tested and turned out to be a carrier. Viima had better luck and is prcd-PRA clear, however, he is a DM carrier. Usva's hip score is B/B and elbow score 0/0. Thank you owners for these results.
Papu's puppies added to Litters and Nuttu to Co-owned dogs. Vikke moved to Lumijoki to fill the big boots left by Remu, while Svea is still waiting to leave for her new home country. Nuttu is staying with her mum Papu at the Savumerkin kennels.
New photos: Masi, Otso, Iita, Kira, Simba and Lyyti. Photo galleries of Siehkku and Kira have also been updated. A big thank you to all photographers!
15 May 2016
Keminmaa group show 14 May: Halla Very Good/4 under Tapio Kakko.
8 May 2016
Posio group show 7 May: Viima (whose profile photo has been updated) Very Good/2 and Siehkku Very Good/3 under Marja Talvitie.
4 May 2016
Kouvola group show 30 Apr: Varpu graded Good by Kirsi Honkanen.

Siehkku has been tested Normal/Clear for prcd-PRA and Pompe disease.

New photos in Kira's gallery and on Senni's page.
1 May 2016
Lingen International, Germany 23 Apr: Seija Excellent/2 under Barbara Yvon Bruns.

New photo on Hali's page.
22 Apr 2016
Polvijärvi group show 17 Apr: Both girls out of coat, Siehkku VG/4 and Halla VG under Mari Lackman.
16 Apr 2016
On 10 April, Usva's co-owner Jenna and I drove up to Lapland to attend the annual reindeer herding event. We were lucky enough to get a place for Usva in the reindeer herding aptitude test (well actually it was Vuokko who got the place, however, the arranging club kindly let me swap Vuokko for Usva). This year held in Kittilä, it was a beautiful day and the event was well organised. Usva and Jenna did a good job in the reindeer paddock and Usva passed the test. She has now passed the herding instinct tests for both sheep and reindeer - way to go Usva! For more pictures, go to Usva's gallery.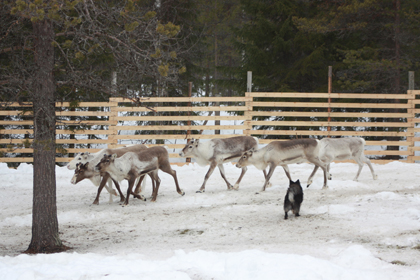 Pertunmaa group show 9 Apr: Varpu Very Good/2 under Perttu Ståhlberg.
Mäntsälä group show 10 Apr: Lyyti Very Good/1 under Perttu Ståhlberg.
Otso's hip score came back as B/A. Thank you Linnea for having Otso tested!
Photo updates: Kielo, Vuokko, and Kukka. New page: Nasti's progeny.
2 Apr 2016
Otso has been health tested: he has clear eyes and we are currently waiting for his hip score from the Finnish Kennel Club. Another piece of good news is that Jäkäläkummun Ällintälli turned out to be Normal/Clear for Pompe disease, so the A litter (out of Sylvi) is clear by parentage.
25 Mar 2016
Miska x Papu puppies are here! Two girls and a boy born on 21 Mar.

Spring Specialty of the Lapphund Club of Finland, Kotka 20 Mar: Karpo placed second and Lyyti third in their respective puppy classes under Maija Sylgrén out of 22 Finnish Lapphund puppies entered. Photos © Jussi Virtanen (Karpo left, Lyyti right).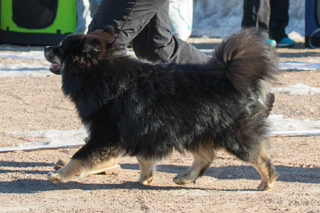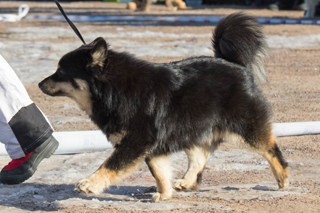 Halla has been tested Normal/Clear for prcd-PRA, Pompe disease and Degenerative Myelopathy (DM). Thank you Johanna for having Halla tested.
New photo (by Sanna Parviainen) added to Saimi's page.
19 Mar 2016
International Martini Dog Show, Groningen, the Netherlands 6 Mar: Seija Very Good/2 under Ricky Lochs-Romans.

Brilliant health news: Both Sylvi and her daughter Iita have been eye tested clear and patella scored 0/0.

Karpo has a new profile picture. Thank you Anu & Jussi!
6 Mar 2016
Puppies on the way! Papu is in whelp to Orso-Farm Kobmi.

Tuusniemi group show 28 Feb: Saimi went second in the bitch challenge taking her first CC! The entry of 37 Finnish Lapphunds was judged by Annukka Paloheimo. Photos © Oona & Nuutti Heikkinen.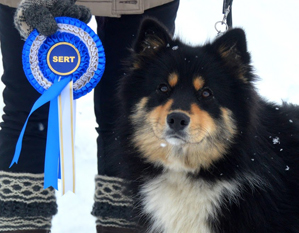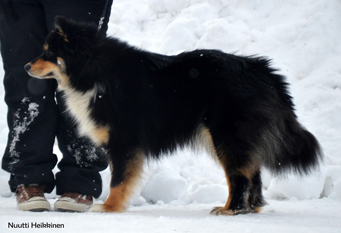 New photos added to Kira's gallery - thank you Mervi!
20 Feb 2016
Lahti Puppy Show 17 Jan: Lyyti took a third place in the minor puppy class under Pirjo Hjelm.

Club matches Winterswijk 17 Jan & Rijssen 30 Jan: While I do not normally report non-championship show results, I have to make an exception this time as Seija did amazingly well going BOB and Group-2 at both shows - well done!

Kuopio Spitz Specialty 31 Jan: Saimi graded Very Good by Jaana Hartus.

Lahti Puppy Show 13 Feb: Karpo won the 7 to 9 month puppy class under Esa Ruotsalainen.

Tornio group show 20 Feb: First time out for Siehkku since junior class and she came very close to finishing her champion title - Siehkku went third in the bitch challenge with the reserve CC under Mari Lackman out of a super entry of 69 Finnish Lapphunds!

Health news: Both Nuuk and Jekku have been eye tested clear. What is more, Myy was gene tested and turned out to be prcd-PRA and Pompe disease Normal/Clear.
16 Jan 2016
Kajaani International 10 Jan: Nuuk Very Good/4 in the veteran class under Riitta Niemelä and Kira, first time out as a junior, graded Very Good by Katja Partanen. Photo of Kira © Pirjo Kivijärvi.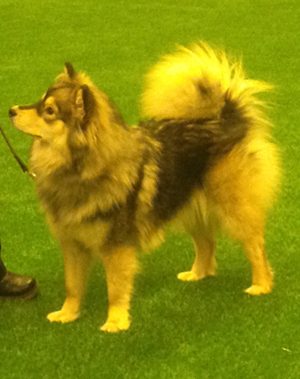 Netta has been eye tested clear - thank you for this excellent news Pia!
Seija's profile picture updated - thank you Diane & Piet!