News & updates 2012

15 July 2012
Netta's puppies are here! A litter of four (two boys and two girls) was born on 15 July by FI Ch Viksalan Rabas ex FI Ch Cantavia Neidonkenkä.
13 July 2012
Saint Petersburg International, Russia 23-24 June: Kielo gained her first CACIB on 19 June 2011, so she became eligible for the C.I.B title on 19 June 2012 as the "one year and one day" rule was fulfilled. The first international event within a reasonable distance after that date was the two White Nights international shows in Saint Petersburg, Russia, and my friend Pirjo Kivijärvi agreed to accompany me on the trip with her Petäjämaan Viksu. Three Finnish Lapphunds present, the Saturday show was judged by Revaz Khomasuridze of Russia. He gave Kielo a Russian CC as well as her crowning CACIB, so her new titles are Russian champion & Champion International de Beauté (C.I.B)! What is more, Mr Khomasuridze also chose Kielo as his BOB. As day 1 was so successful, I decided to give Kielo a day off on the Sunday and instead focused on showing Pirjo's Viksu, who can be a real handful in the ring. Viksu went BOB under Ramune Kazlauskaite of Lithuania. Photos of Kielo below by Erja Pekkala & Arto Lehtola.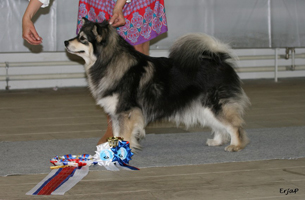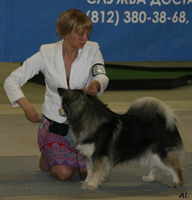 Kokkola International 7 July: A scorching hot day out with my own girls Kielo and Vuokko. This was Vuokko's debut in the Finnish show rings and she did it with style going Best Puppy in Breed under Pekka Teini. Kielo got a very nice placing, too, going runner-up to best bitch with a reserve CACIB. The number of Lappies entered was 19. Photos below by Jenna Sergejeff.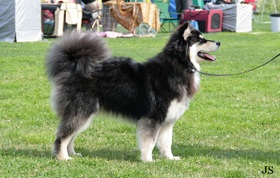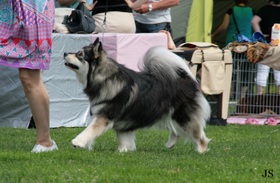 Latest health news: Kielo's prcd-PRA status is Normal/Clear. Ruska has been eye tested clear, and her hip/elbow scores will be available shortly. Thank you Mira for having Ruska examined!
27 May 2012
Aarni took part in his very first obedience trial in Kemi 20 May and scored a third prize. Well done! Photos by Emilia Salmijärvi.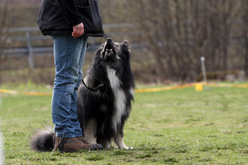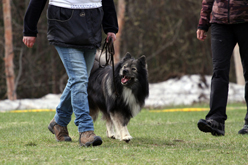 Kielo eye tested clear, and her prcd-PRA status will be available shortly.
19 May 2012
Finnish Lapphund puppies expected mid-July by FI Ch Viksalan Rabas ex FI Ch Cantavia Neidonkenkä.
12 May 2012
Introducing the latest addition to the team: this is Suopunkitytön Ihana Valo aka Sylvi (pictured below aged nine weeks), who lives with Matleena Eskelinen & Heikki Kervinen and their two other Lappies at Pyhäntä.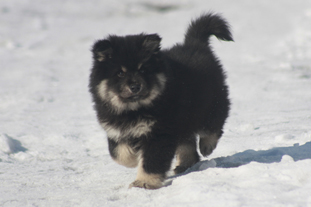 The Finnish Lapphund Club's Spring Specialty, Pello 1 Apr: Kielo graded Excellent by Tuula Pratt.
Vaasa International 14 Apr: Kiara out for the first time as a veteran and her result was EXC/2 CQ under breed specialist Jarmo Vuorinen.
The Swedish Lapphund Club's Specialty, Piteå 15 Apr: Too young to be shown in Finland, Vuokko attended her very first show in Sweden where the baby puppy class is for puppies aged between 4 to 6 months. I entered Kielo as well to accompany Vuokko on her first outing. Vuokko's debut could not have gone any better as she went Best Puppy in Show! Kielo did very well, too, going runner-up to best bitch. The judge was Liz-Beth Liljeqvist and the number of Finnish Lapphunds entered was 39.
Kajaani group show 21 Apr: Vekku came very close to finishing his champion title in three straight shows, however, had to be content with a reserve CC this time. He went runner-up to best dog under breed specialist Tapio Kakko out of an entry of 25 Lappies.
Exciting health news: Kielo has been earlier elbow scored twice by means of traditional x-raying and diagnosed with mild elbow dysplasia (1/1) both times. Therefore I decided to have her elbows examined with computed tomography (CT), which generates a three-dimensional image of the elbow. It turned out that Kielo's elbows are perfectly normal and therefore her official elbow score is 0/0! Another piece of good news is that Netta was eye tested recently and her eyes are "as clear as they can possibly be". Thank you Pia!
4 Mar 2012
Jekku, Jippo and Kielo had an exciting day on 26 Feb as they got to try their hand (paw?) at reindeer herding. Minna Mäntyranta-Mustonen and Ahti Mustonen kindly let us visit their reindeer farm in Pello, right above the Arctic Circle. Due to the female reindeer being pregnant at this time of the year, it was necessary to keep the dogs tethered, however, it was nevertheless a great opportunity to see how the dogs reacted to the reindeer. Jekku always behaves himself impeccably on a leash so we hope he gets to have another go later on, off the leash, to see what he is capable of. Jippo showed a lot of interest in the reindeer, which is a really good starting point and it will be interesting to see how he matures in this respect. Kielo provided the biggest surprise of the day as she worked the reindeer as if she had done it many times before! Thank you for a fun day Minna, Ahti, Päivi, and Satu & Piitu! Photos below: top left Jekku and top right Jippo (by yours truly), bottom left & right Kielo (by Päivi Riihimäki).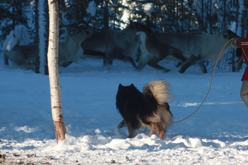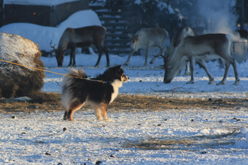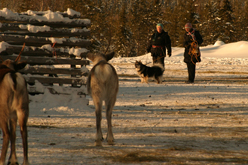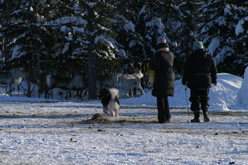 Tuusniemi group show 26 Feb: Ruska was graded VG by Mari Lackman in the open class. Well done!
This time I have some less exciting health news to share: Ukko's hips are D/D, and elbows 3/1. Kielo's elbows were re-x-rayed and the score remained unchanged: 1/1.
19 Feb 2012
Meet Vuokko the cutie pie! I had originally planned to keep a puppy from my next litter, however, as that is not on the cards just yet and Kielo was miserable as the only dog in the house, I was faced with the pleasant task of finding a puppy. This is Lapinpeikon Namupala (Ch Casper ex Lapinpeikon Kassi Alma), co-owned with breeder Katja Löytty. Thank you, Katja, for this treasure! Kielo is happy to have the company and the two can play together for hours. Photos below by Katja Löytty.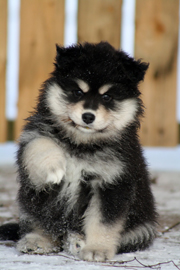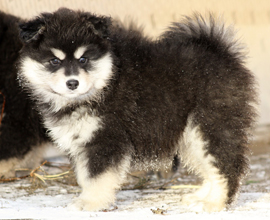 Kajaani International 15 Jan: A super entry of 86 Finnish Lapphunds was entered under breed specialist Saara Sampakoski, five of them carrying the Cantavia prefix. Jippo (pictured top left below) was shown for the very first in the junior class and was graded Good. Next up was Vekku (pictured top right), shown for the very first time ever, and he won the open class with a CQ grading. Nuuk (unfortunately no photo available) put on a sterling performance in the champion class, getting an Excellent grading. Vekku then took part in the dog challenge and to my amazement went runner-up to BD, only beaten by top winner Lecibsin Macce. As Macce is a champion and C.I.B, CC & CACIB were handed over to Vekku. Not bad for his very first show! In the bitch classes we showed Helmi (pictured bottom left), who took a third place in the open class with a CQ ribbon, and Netta (pictured bottom right), who went fourth in the champion class also with a CQ. With so many Cantavia dogs in the ring, we were able to show a team, which got a first place but no prize of honour this time. All photos by Paula Martiskainen.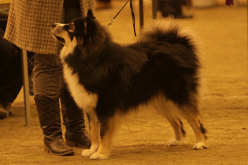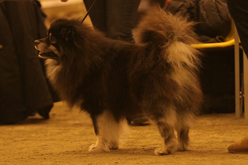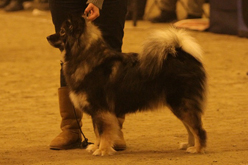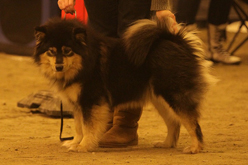 Kokkola group show 21 Jan: 30 Lappies entered under Pekka Teini. The ring was moved outdoors due to space constraints of the show venue. We braved the crisp winter weather with the following results: Jippo (photographed top left by me) got a Very Good grading in the junior class, and Jekku (photo top right by Adalmiina Fordell) repeated this in the open class. Onni (photo bottom left by Adalmiina Fordell) had his show debut and got an Excellent grading, third place in the open class and a CQ ribbon. Last up was Helmi (photo bottom right by Päivi Riihimäki), who won the OB class and went fourth in the challenge with a reserve CC. We could have shown a team, however, gave it a miss since we did not have enough handlers.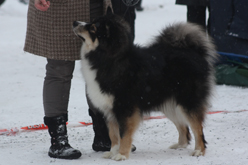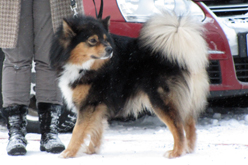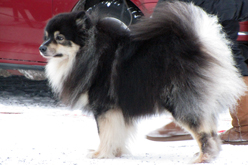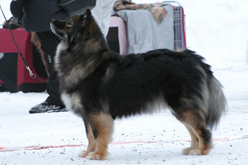 Kuopio Spitz Specialty 29 Jan: Even though you can pretty much count on the conditions to be freezing at this annual show, I simply could not give it a miss this year with two breed specialist judging (dogs Eija Lehtimäki, bitches Saara Sampakoski). The entry was huge (109 Finnish Lapphunds in total!) so imagine my shock and excitement when Vekku, at his second show ever, went on to take Best of Breed at one of the main events of the year! Two shows (Kajaani & Kuopio) two weeks apart, both of them with huge entries, two breed specialists judging - and Vekku is now one CC short of his title. Congratulations to owners Vuokko & Pekka one more time, you should be very proud of your handsome boy! We showed two champion bitches, too, and both did very well in extremely stiff competition: Mette third and Netta fourth, both with a CQ. Photo below by Marjo Vierikko (on the left is BOS winner Fihtolas Cupla).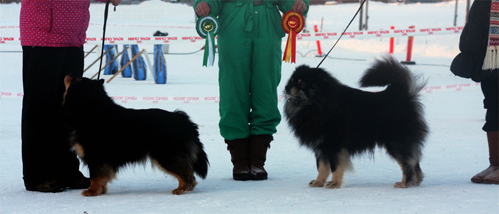 Keuruu group show 5 Feb: 35 Lappies shown under Esa Ruotsalainen. Only a few CQ ribbons were handed out, so I was very pleased to hear that Netta got one of them, and was placed third in the bitch challenge.
Some excellent health results: Onni is prcd-PRA clear, and Nuuk as well as Ukko have been eye tested clear. Thank you owners for having your dogs tested.
6 Jan 2012
Raiku has a litter of four (two dogs and two bitches) out of Kivimarjan Niittyvilla at the Kivimarjan kennel.