17 June was an extremely sad and shocking day for us. Hertta was diagnosed with a mild pyometra and therefore had to undergo hysterectomy. To my great grief, she never woke up again :((( I was absolutely devastated at the news and cried for four days non-stop. I miss her immensely and not a day goes by without me thinking about her. Below is one of the last photos taken of her, it was Easter time and we were at our summer cabin, which was one of her favourite places.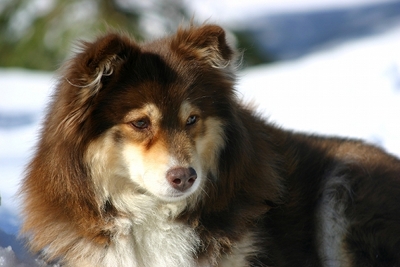 Show results from this summer:
Raahe group show 13 June: Edi VG/1 and Mette G under Raimo Viljanmaa.
Piteå International, Sweden 4 July: Peppi won the open class and was placed third in the bitch challenge under Erna-Britt Nordin.
Piteå Lappie speciality, Sweden 5 July: Peppi third in the open class under Hannu Talvi.
Kemi all-breed show 11 July: We had cause for celebration as Edi finished his championship first time out after his second birthday! He took the ring by strom by going BOB and Group-2 (photo below) under Helge Lie of Norway. Congratulations and thank you once again Hannakaisa! We also showed Jeppe, who was graded VG, and Mette, who was graded EXC and won a large junior class.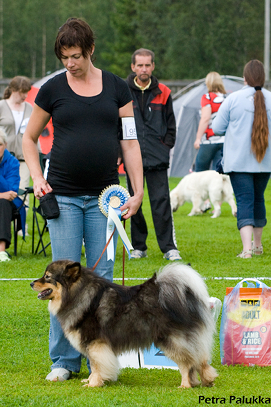 Oulu International 18 July: Edi, shown in the champion class for the first time, was graded EXC by Marjatta Pylvänäinen-Suorsa.
Oulu International 19 July: Raiku Best Puppy in Breed at his very first show - well done! Edi EXC/3 & third place in the dog challenge under Katja Korhonen.
Ruukki group show 25 July: Mette second in the bitch challenge with her second CC (yay!) and Lempi Best Veteran in Breed under Esko Salkonen.
Kiiminki group show 1 Aug: Lempi VG/1 under Raimo Viljanmaa.
Iisalmi International 2 Aug: Nuuk EXC grading under Paula Heikkinen-Lehkonen.
Kajaani group show 9 Aug: Nuuk Best of Breed under Marjatta Pylvänäinen-Suorsa!
Rovaniemi group show 15 Aug: Mette EXC/1 under breeder judge Tapio Kakko.
Nuuk was temperament tested in Kajaani 23 Aug and amassed a whopping 203 points! What an excellent score for a Lappie. Congrats and thanks Pirjo!