These first months of 2006 have been rather quiet as far as dogs are concerned. Here is a brief update of what has been going on:

Peppi attended a reindeer herding test at Narkaus 5 Mar and passed it with ease. She got very excited about herding and proved to be an agile and fast herder (she will need to work on the obedience part though!). Thank you Kati for handling Peppi in the paddock!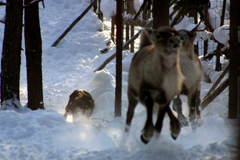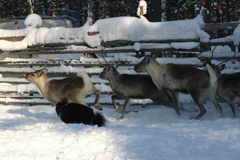 Peppi had her health checks performed: her eyes were clear and she was free from patella luxation. Now we just have to wait for the final evaluation of the hip and elbow x-rays back from the Finnish Kennel Club. What is more, Peppi took part in her very first fun agility competition and she certainly did it with style: Peppi won the Medium dogs' class! What a start.
As for dog shows, Kiara went runner-up to Best Bitch with Res CC and Res CACIB at Kajaani 6 Jan under Cristian Stefanescu. At Tampere 18 Mar she was graded Very Good by Steven Seymour, and at Lahti 23 Apr she went 3rd Best Bitch under Manuel Loureiro Borges. The best result so far this year was achieved at Vaasa 30 Apr where Kiara went BOB and finished her championship under Paula Heikkinen-Lehkonen! Unfortunately she was unable to attend the group judging. Arttu was shown at Turku 22 Jan and went 4th Best Dog under Harry Tast.
Oona's puppies moved to their new homes in January. Timotei and Tuhatkauno live in Haukipudas, Tupasvilla in Suomussalmi and Timjami flew all the way to Belgium. I met the three puppies that stayed in Finland at a Match Show 9 Apr and I was happy to see that all of them were outgoing and very well behaved even though it was their first time out and about. Rekku and Vilma made their ring debuts and both of them were placed well. Doris' first appearance in the ring took place a month later at a Match Show in Oulu where she was placed BIS-7.