News & updates

7 Mar 2018
Vilnius International, Lithuania 2-4 Mar: Viima pulled off a hat trick at the three back-to-back international shows in Vilnius, winning a Lithuanian CC and a CACIB each day! On Sunday he even took BOB. Viima came home with no less than three new titles: he finished his Lithuanian and Finnish championships topped off with the title of Lithuanian Winner 2018. The judges were Tamara Sarmont (Friday), Christian Jouanchicot (Saturday), and Renata Petkevičienė (Sunday). Congrats & thanks Leila!

Juuka group show 3 Mar: Old boy Nuuk added one more Best Veteran win to his credit under Maarit Hassinen. He also took a fourth place in the dog challenge. Way to go Nuuk! Photo by Mari Rantanen.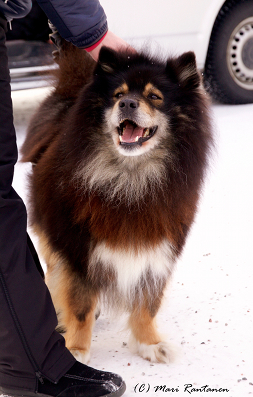 1 Mar 2018
The Sälli and Kira puppies have left for their new homes. Both of them live nearby, Napu in Oulu and Ruusu, who is placed out on breeding terms, in Kello. A big thank you to Kira's owner Mervi for doing such a super job with the puppies!
4 Feb 2018
Parkano group show 3 Feb: Viima won the champion class with a CQ under Sakari Poti.
30 Jan 2018
Raahe group show 27 Jan: Svea graded Very Good in the intermediate class by Markku Kipinä.

Kaunas International, Lithuania 27/28 Jan: Saturday appeared to be a day of Very Goods since also Vuokko and Kielo were graded Very Good. Sunday's show, however, went a lot better with Kielo going BOS & BOB veteran (which makes her a Lithuanian veteran champion) and Vuokko winning her all-important fourth CACIB and thereby finishing her C.I.B title! What is more, she also got her Lithuanian title. The judges were Rony Doedijns (Saturday) and Jean-Claude Klein (Sunday). Thank you Pinja Lämsä for taking the girls with you! Photo by Pinja.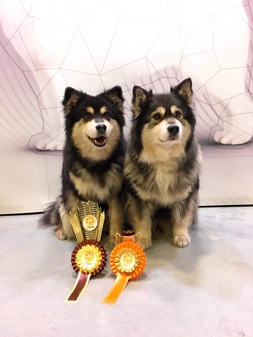 Kuopio Spitz Specialty 28 Jan: Nuuk won the veteran class among stiff competition and took a creditable third place in the dog challenge under Juha Putkonen. He was also BOS veteran. Bitches were judged by Katja Korhonen, who gave Saimi a Very Good. The Finnish Lapphund entry was once again huge, this time 132 dogs entered!
22 Jan 2018
Karpo was tested for Degenerative Myelopathy and turned out to be clear.
16 Jan 2018
Kajaani International 14 Jan: Viima got a very nice second place in the competitive champion class, while Nuuk was graded VG and won the veteran class under Annukka Paloheimo.
13 Jan 2018
Karpo's health results are in: clear eyes, hip score C/C and elbow scored 0/0. Thank you Anu & Jussi!
6 Jan 2018
The Sälli & Kira puppies are here! Three girls were born on New Year's Day, sadly one of them was stillborn but we are happy about these two little treasures. Photo by Mervi Pikkarainen.